You guys, 2020 really killed my travel dreams and I am super excited to get back to travelling with friends and family. Not to get to sappy on you, but my hometown (Paradise, CA) was engulfed by a wild fire in 2018 and I have several high school best friends that I haven't been able to get together with ever since (many relocated, many are still rebuilding, California has pretty tight COVID restrictions, etc.). Nevertheless, I decided that we were going to plan a Mom's Trip to Florida this Spring, to visit one of our besties, Rachel (publisher for Macaroni Kid in Destin, FL) who re-located there. I reached out to the folks at Visit Panama City Beach for some recommendations and used their website to find fun, grown up things for moms to do in the area. Of course, they also had tons of information on family fun ideas and kid activities, but for this trip it was all about the moms. I wanted to share some of the highlights of our weekend away with you guys, to help you plan an awesome trip (kids or no kids).
The trip to the Florida panhandle is certainly drivable for many families (and usually more cost effective if you have a family of 4-6 when considering the cost of plane tickets), however, it was more cost effective for me to fly down by myself and I don't think I could do the drive alone. Right now, flight prices are staying pretty low, but it seems to fluctuate A LOT (Pro tip: use a price tracker app for flights when planning any trip - I have Hopper and SkyScanner). I flew out of Cedar Rapids, connected in Atlanta, and was in Pensacola by lunch time. My bestie in Florida was ready and waiting to show me all of the best beaches and local hangouts in Destin, Navarre, Miramar, and Pensacola areas. We spent most of the first day cruising around and enjoying the ocean view before grabbing our third bestie from the airport.
Here we are, ready for adventure: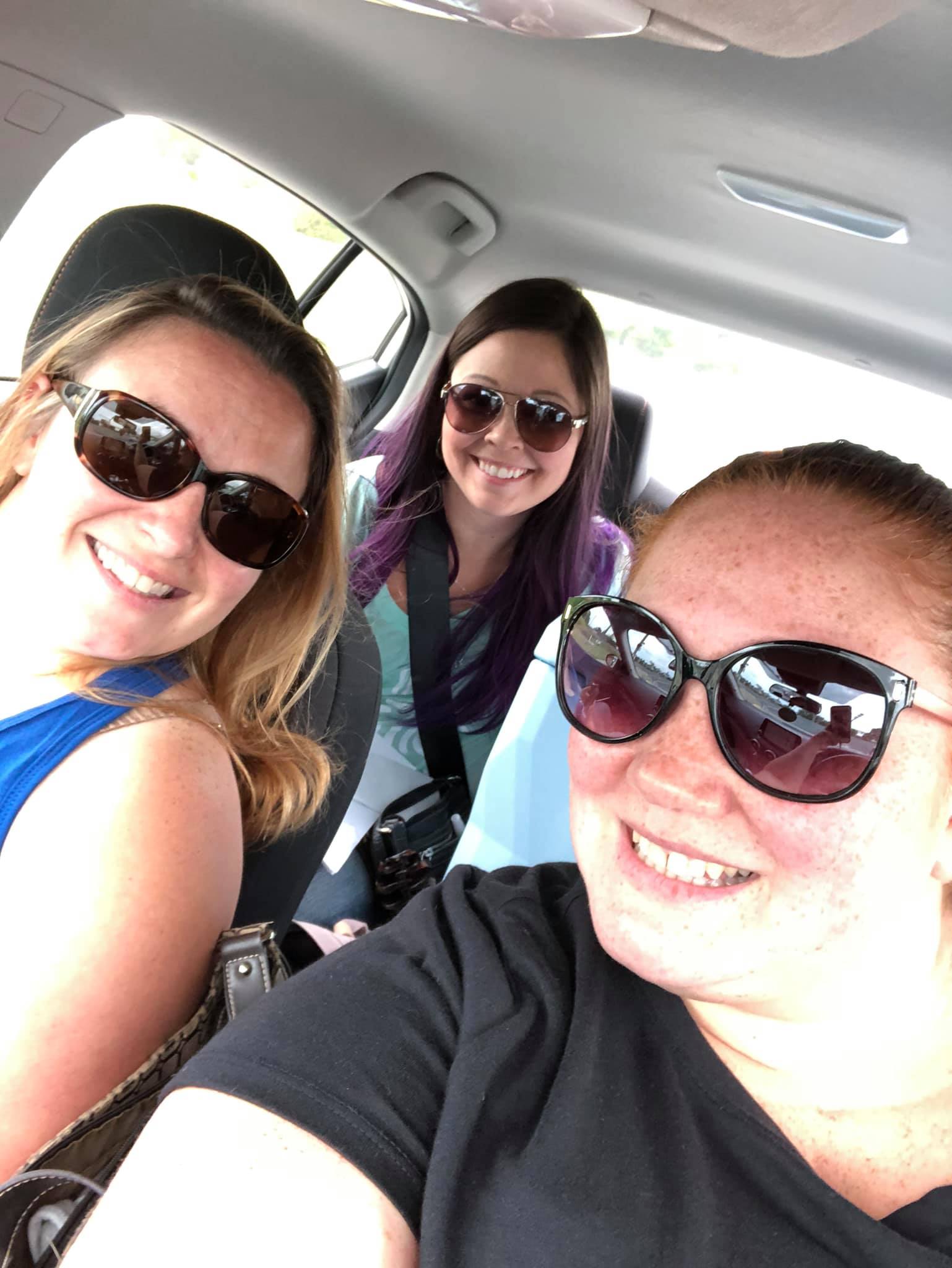 Day 1
We helped Rachel with all of the mom things on Friday morning (getting everyone fed, dressed, off to school, etc.) before heading to Panama City Beach (PCB) for the weekend! We drove about an hour and a half East (beautiful drive with ocean views and all), grabbed lunch at the boardwalk in Destin, then headed to our oceanfront condo in PCB. The weather was a beautiful 75 degrees and mild in the middle of April - a little chilly for ocean swimming, but perfect for hot-tubbing, shopping, visiting Pier Park, walking the beach, and checking out the local attractions. And I am certainly not complaining since it was 25 degrees in Cedar Rapids when I got to the airport. We settled into the condo for the weekend and grabbed dinner in Pier Park. The city was lively all evening and into the night, we saw families cruising up and down the ocean front road in golf carts until dark.
Day 2
The weather called for rain all day, but it never really rained, just felt like it was going to the whole time. Rachel and I escaped down into the hot tub early in the morning when it opened and enjoyed about 20-30 minutes of peace and quiet as the rest of the resort was just waking up. Today, we decided would be for fun in Pier Park, checking out the SkyWheel (as long as it didn't rain) and shopping for souvenirs. There were high winds and the red flags at the beaches signaled that swimming in the ocean was a "no go" for today anyway. It turned out to be perfect weather for exploring and walking around outside. Pier Park reminds me of the outdoor outlet malls, set up Downtown Cedar Falls style: lots of restaurants, bars, and stores, plus fun activities and things to do.
Rachel and I are afraid of heights, but still wanted to check out the view on the SkyWheel, so we sucked up the courage and checked in for the ride. Never been on a SkyWheel? Think Ferris Wheel in a safe, enclosed bubble that doesn't really rock or sway. Perfect for nervous moms. LOL. We both loved it and the views of the ocean were impeccable.
The SkyWheel is a really neat experience for any age (I didn't see any limitations on ages) and you can even grab snacks and drinks from the Snack Shack to take on it with you.
It was kind of cloudy during our visit, but check out what it looks like at night!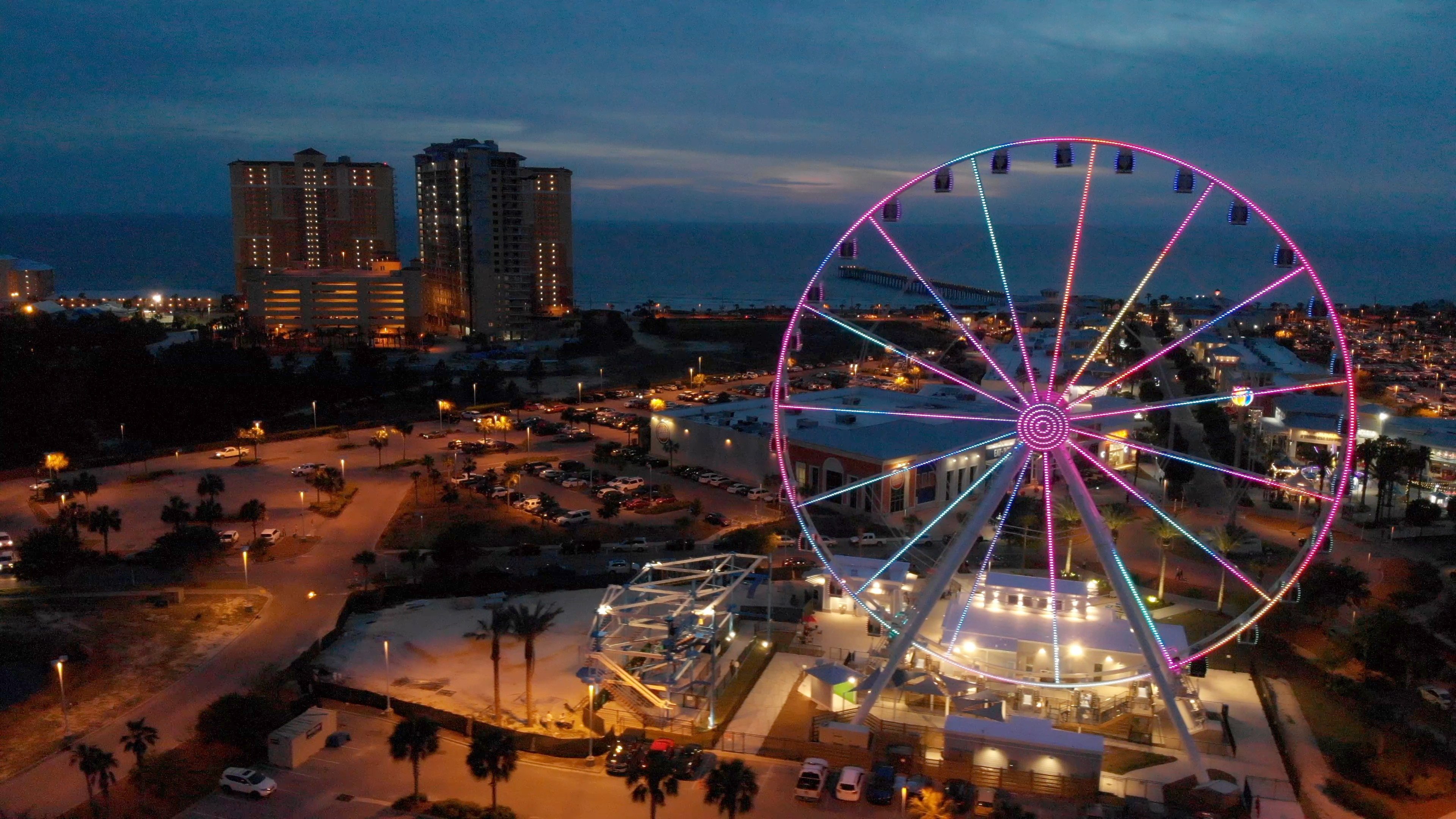 After spending most of our day in what seemed to be the most touristy part of PCB, we opted to enjoy dinner at a beautiful, local beachfront restaurant that has RAVE reviews. Schooners is a local gem and was even suggested to us by our tour guide on Day 3, we told him we had already been there.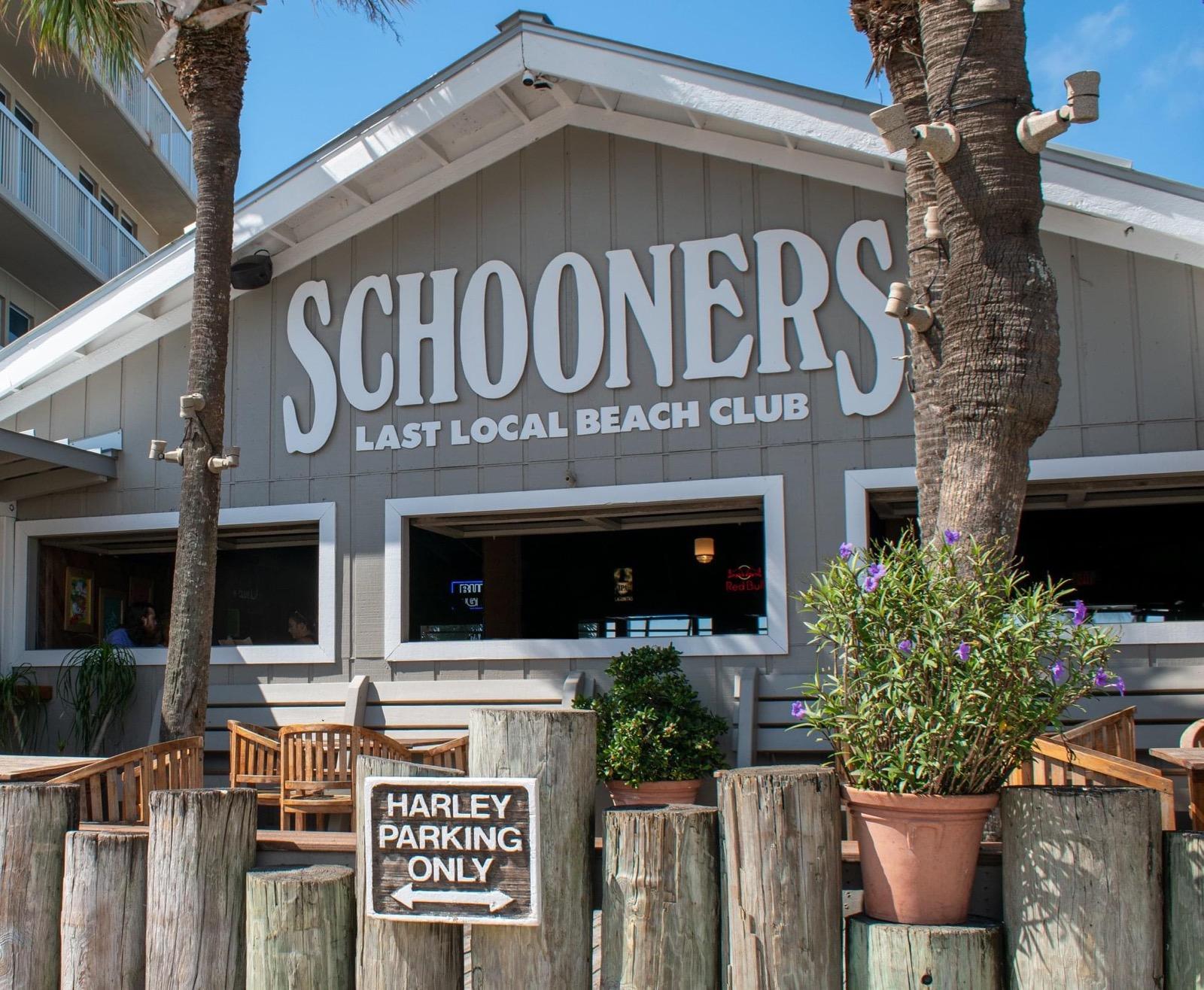 We asked about their specials and tried some of their favorite menu items, we each got something different and shared. All three of us HIGHLY recommend the tuna medallions, grilled grouper (meal or sandwich), and smoked tuna dip. If you are over the age of 21, I also suggest the Sunset Splash (specialty cocktail). Everything we tried was fantastic (best meal the whole trip) and the prices were on point as well. And for all of the above reasons, Schooners has recently (2020) been named one of "The Best Seafood Dives in Florida" by Southern Living magazine.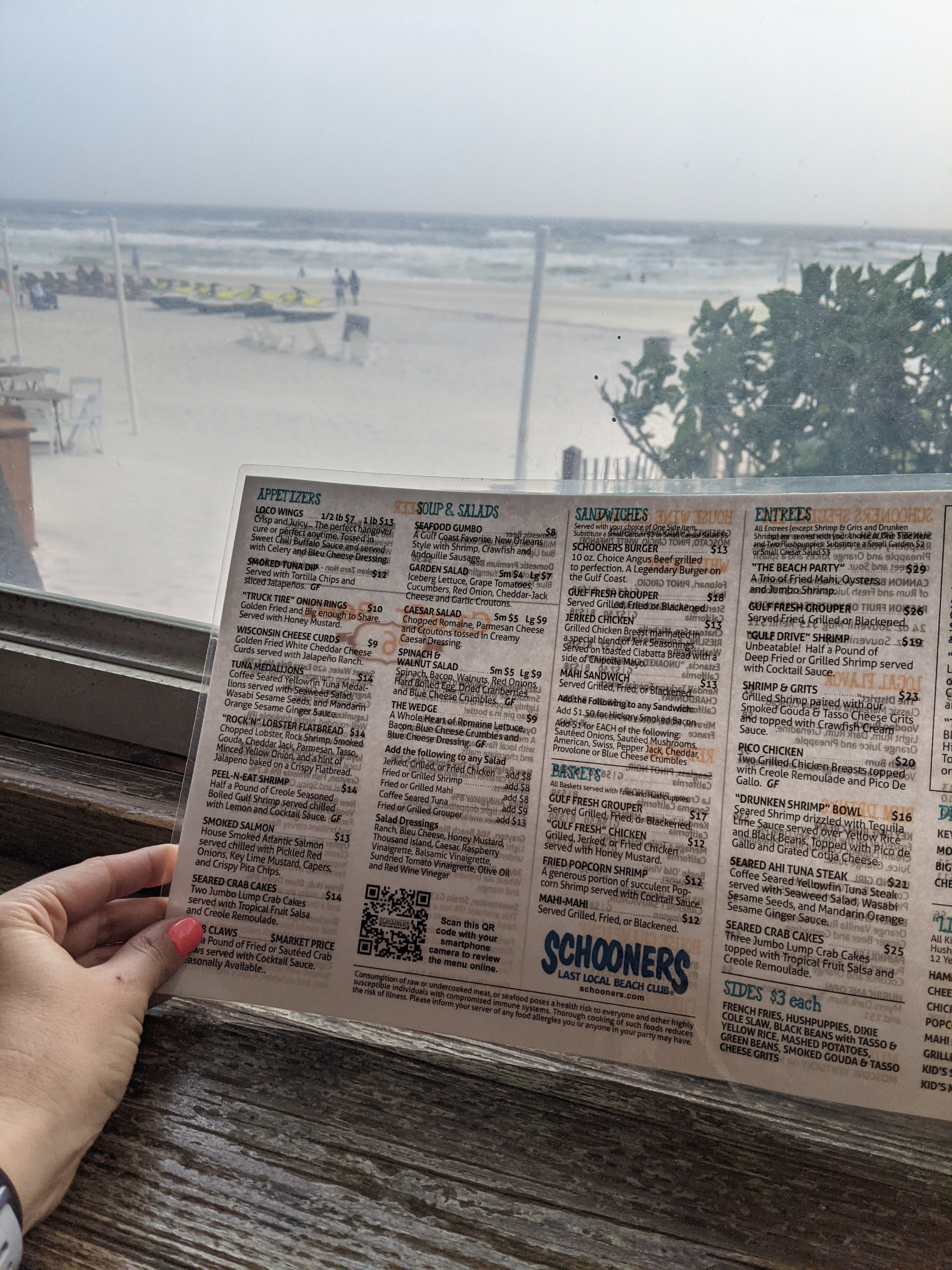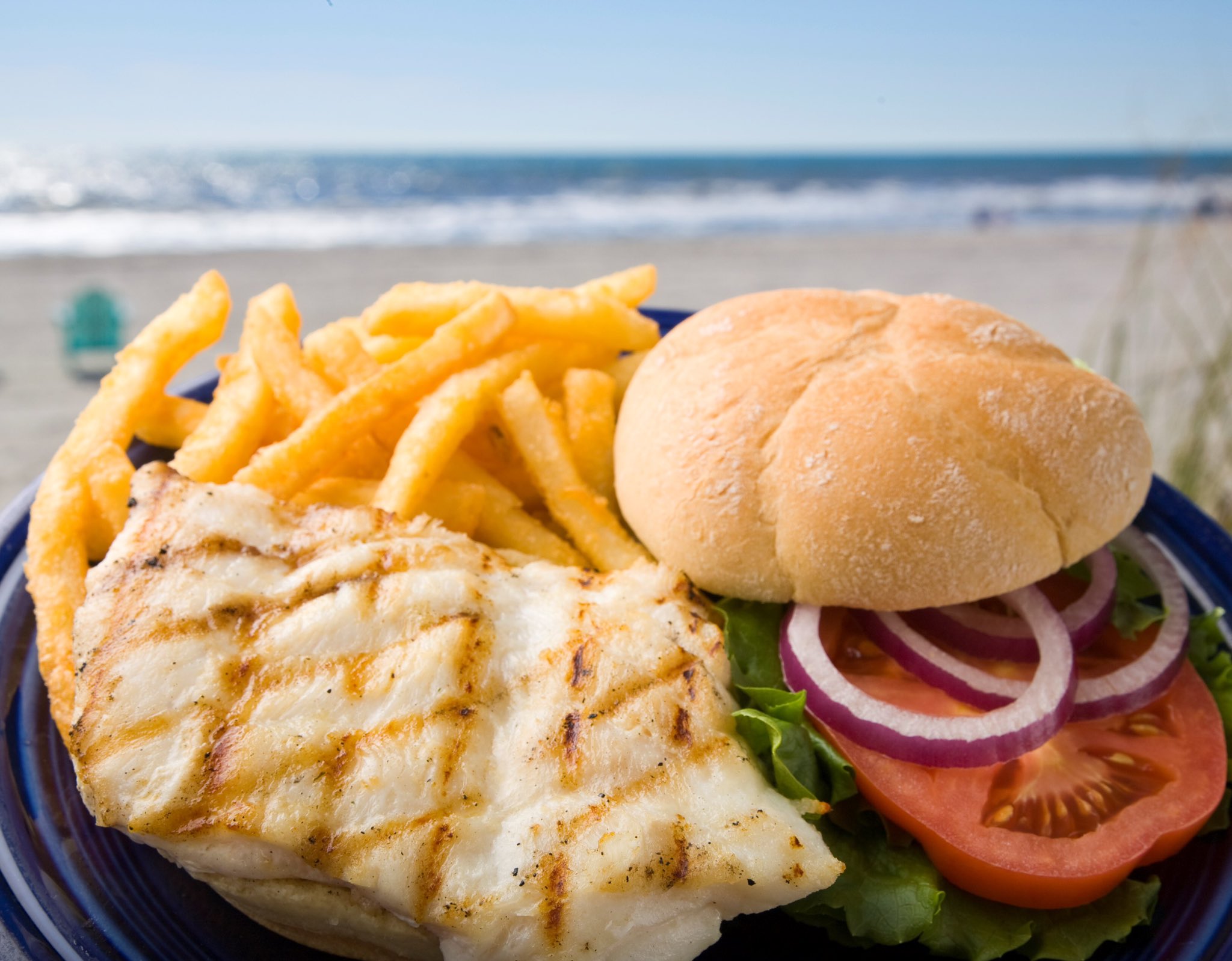 PLUS, they do a Nightly Sunset Celebration: Every night Schooners fires off the old cannon at sunset to celebrate another beautiful day on the beach and ring in the night with a whole different kind of fun! Check out their website for videos and awesome sunset photos.
I'm going to let you guys in on a secret... I have never been much of a seafood or fish eater. I committed to trying new foods on this trip since I figured the best place for fresh, amazing seafood is going to be near the ocean. I experienced lots of new-to-me foods like crab dip, tuna medallions, grouper, mahi mahi, and grilled shrimp. I am SO glad that I ventured out of my comfort zone on this one, I found out that I love grilled white fish and the grouper at Schooners was AMAZING.
Day 3
I don't know how time flew by so fast, but suddenly it was Sunday morning and we were packing up the condo already. Our mission was to catch the Blue Dolphin tour to Shell Island at 10am so we were up and moving pretty early. We also lucked out because Sunday was the most warm and calm day we had the whole weekend, so it was perfect for a boat tour. I even managed to get a mild sunburn in the middle of my back (where I couldn't reach with the sunscreen).
I researched several different tour companies when trying to find us a fun, daytime, boat tour during our weekend trip. Blue Dolphin tours had great reviews, small group sizes, and offers two hour tours with both morning and afternoon time options. The tours are limited to just six people per boat and our group of three ended up being all by ourselves. They are definitely the best choice for a small group, intimate tour of Shell Island. Check in was super easy, we were led straight to the boat, hopped on, and headed straight out of St. Andrews bay and into the gulf. We had the pleasure of being led by Captain Guy, who was funny, friendly, and knowledgeable about all the different parts of the bay, history, and animal habits. He pointed out several landmarks, points of interest, and St. Andrews State Park, plus explained all of the options for doing a day trip there, as we headed out of the bay. We stopped a few hundred yards from shore, where Captain Guy said there was a lot of dolphin activity. Sure enough, within minutes, we were watching dolphins dive for fish, come up to surface to breath, and occasionally make a little jump out of the ocean. He said that we could jump right in and swim with the dolphins if we wanted, but the water was too chilly for us to take him up on that. I'm adding it to my Summer bucket list for our next visit.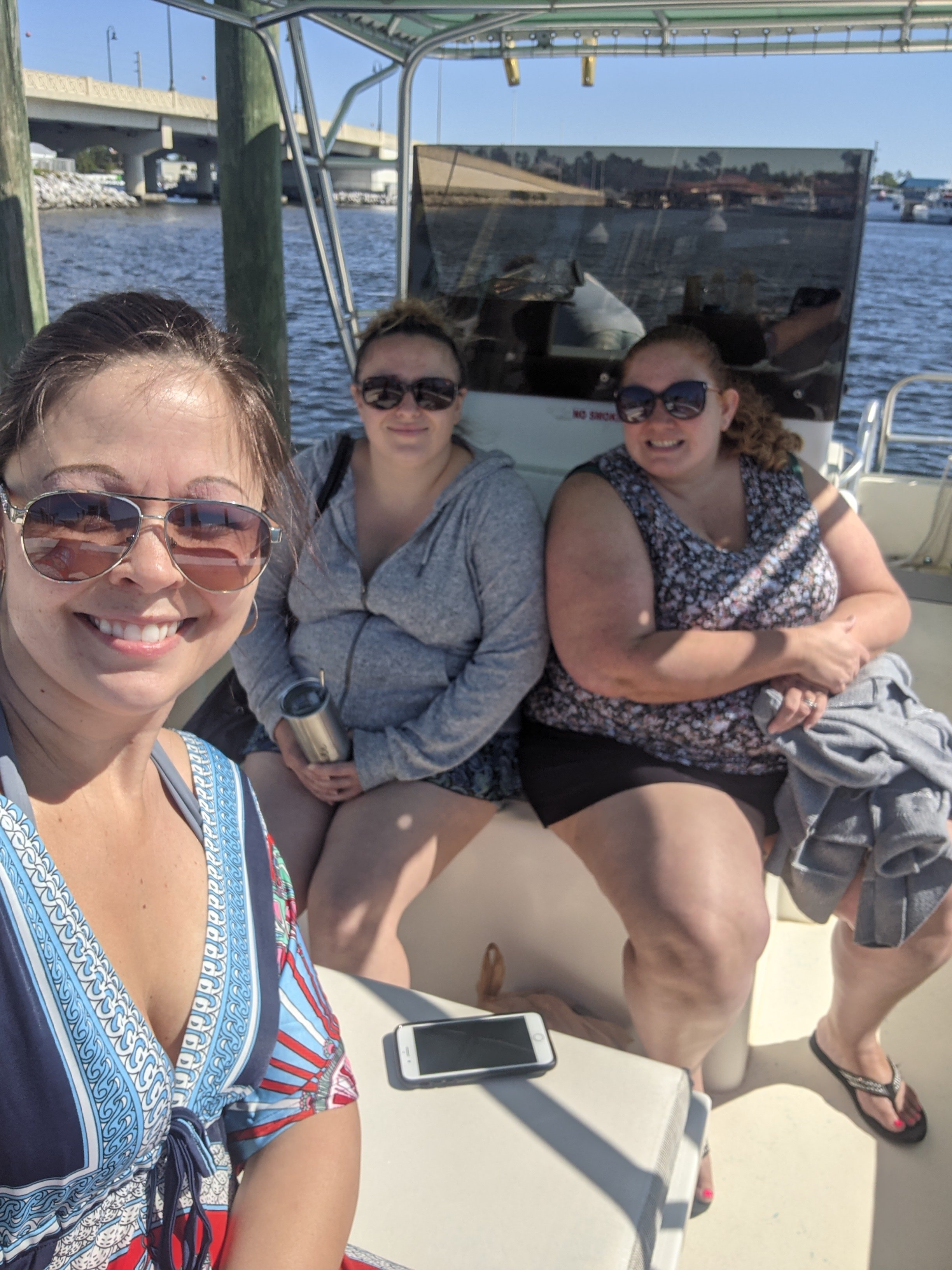 After being hypnotized by the dolphins for a while, Captain Guy said that we could certainly float around out in the gulf and watch for more dolphins, or head over to Shell Island and roam around. We opted to get out hunting for seashells. We anchored into a shallow bay and walked onto the island in about knee-deep, calm waters. One of the other tour boats had already arrived and their captain greeted us with a hermit crab the size of the palm of my hand. He was huge. Then we took a short trek through the tall grass and hills to the shell-covered, gulf side of the island. Captain Guy provided us each with small buckets that were quickly filled with all of our treasures. There were lots of large broken pieces from the high winds the past few days, but we still found a ton of shells, plus some sand dollar pieces, and a crab leg (eww...).
Some pro tips from the folks at Blue Dolphin Tours (aka "Locals water secrets"):
1) the prevailing winds usually start out from the North and East causing the Gulf, bays, and Shell island to be flat and clearer with better visibility in the mornings. After lunch, the sea breeze usually kicks in from the South and West. Therefore, avid snorkelers should reserve tours in the mornings.
2) the Sunset cruises offer stunning water views and dolphin watching after most folks have gone back to their condos or out to dinner.
Blue Dolphin Tours offers two-hour general admission tours (max group size of 6) with or without snorkeling (equipment included in prices). Plus, they have three-, and four- hour private/family tours if you want the boat to yourself. The water was a little too chilly for us to snorkel in April, but Captain Guy told us that many people do and they have all of the snorkeling equipment available if you want to take them up on it. They also offer sunset cruises and pontoon rentals. Check them out HERE.
My kids were super jealous and would have loved the Blue Dolphin Tour. It is a great experience for ages 4 and up, plus one of our friends is currently expecting and it was perfectly safe for her as well.
TIPS for your next trip to PCB:
1. Get a condo with a kitchen so that you can cook breakfast and lunch there, or pack a lunch for exploring and beachcombing. Then go somewhere awesome (like Schooners) for dinner at night.
2. Check out the deals and discounts available at https://www.visitpanamacitybeach.com/ PLUS use this website to help plan out your trip.
3. Don't pack too much into one day, especially if you have kids. I usually only plan one adventure per day, like the SkyWheel, mini-golf, or boat cruise. However, I don't consider going out to eat an adventure, unless it's an experience of it's own (Medieval times, dinner show, pirate dinner, cruise, etc.)
4. If you can, plan your activities on weekdays when there are usually less crowds and the lines are shorter. However, we were there over the weekend the only place we saw excessive people and traffic was on Front Beach Road (cars, people, golf carts, etc). The attractions and restaurants were not packed at all.
5. And last, but certainly not least: be flexible. If the SkyWheel is busy or something (it really wasn't when we went at 5pm on a Saturday), go have dinner or shop for a bit and come back later.
I hope you guys are able to take a trip to beautiful Panama City Beach sometime! If you do, tell them Macaroni Kid sent you :)