This is a "summer of firsts" and the list just keeps getting longer you guys. We have a new family friend with a house in Branson and since my original Memorial weekend plans were cancelled a few months back (thanks COVID), we opted to road trip to Branson for a few days instead. The drive wasn't too bad, about 8 hours with stopping for gas somewhere in the middle. You could absolutely go through Des Moines then Kansas City or take 380 down towards St. Louis and stay the night to break up the drive. We took several books, some travel games, and a portable DVD player and our kids did great doing it all in one shot. We also drove right through the Lake of the Ozarks area (about 2 hours before we got to Branson) and you could spend a few days there then a few days in Branson pretty easily if you wanted to check them both out.
I'm putting together a list of our favorite attractions and you'll see some budget friendly tips here as well.
The biggest and probably most well known attraction in Branson is Silver Dollar City, we saw signs for it from miles away. This 1880s-themed park is a great place where your family can gather together for fun adventures, create new traditions, and make memories. There was so much to see and do at Silver Dollar City that you could probably make a two-day event out of it. There are over 100 craftsmen showing off their skills to guests (think glass blowing, black smiths, candy makers, and bakers), dozens of shows in various venues across the park, and over 40 rides and attractions.
A big summer season is ahead as Silver Dollar City opens Star-Spangled Summer presented by Arvest Bank, running through July 25, 2021. New shows include the new "Down By The Riverside" starring the Rivertown Ramblers Dixieland Jazz with a "today twist" on songs of the generations. Moreover, making it all a slam-dunk, two legendary sources of family entertainment, the Harlem Globetrotters and Silver Dollar City, tip off to present The Harlem Globetrotters Skills Showcase, an exclusive new show created for The City. The return of the Harlem Globetrotters, known the world over for their ball-handling skills, fun teamwork, and trick-shot mastery present a 30-minute Skills Showcase offering the showmanship, laughs, and love of the game that have made the Globetrotters famous.
Plus, the new, one-of-a-kind Mystic River Falls offers four experiences in one ride: a nearly half-mile river ride, an 8-story lift tower, an elevated channel and the grand finale, a 4.5 story waterfall drop – making it the tallest drop on a raft ride in the Western Hemisphere.
Additionally, a 450-seat new restaurant, the Rivertown Smokehouse, is located along the banks of the Mystic River in the themed Rivertown area. As the centerpiece of Silver Dollar City's 60th Diamond Jubilee, now underway, the area is also home to a new bakery preparing Silver Dollar City's famous cinnamon bread. The food was great and the line for cinnamon bread was worth it.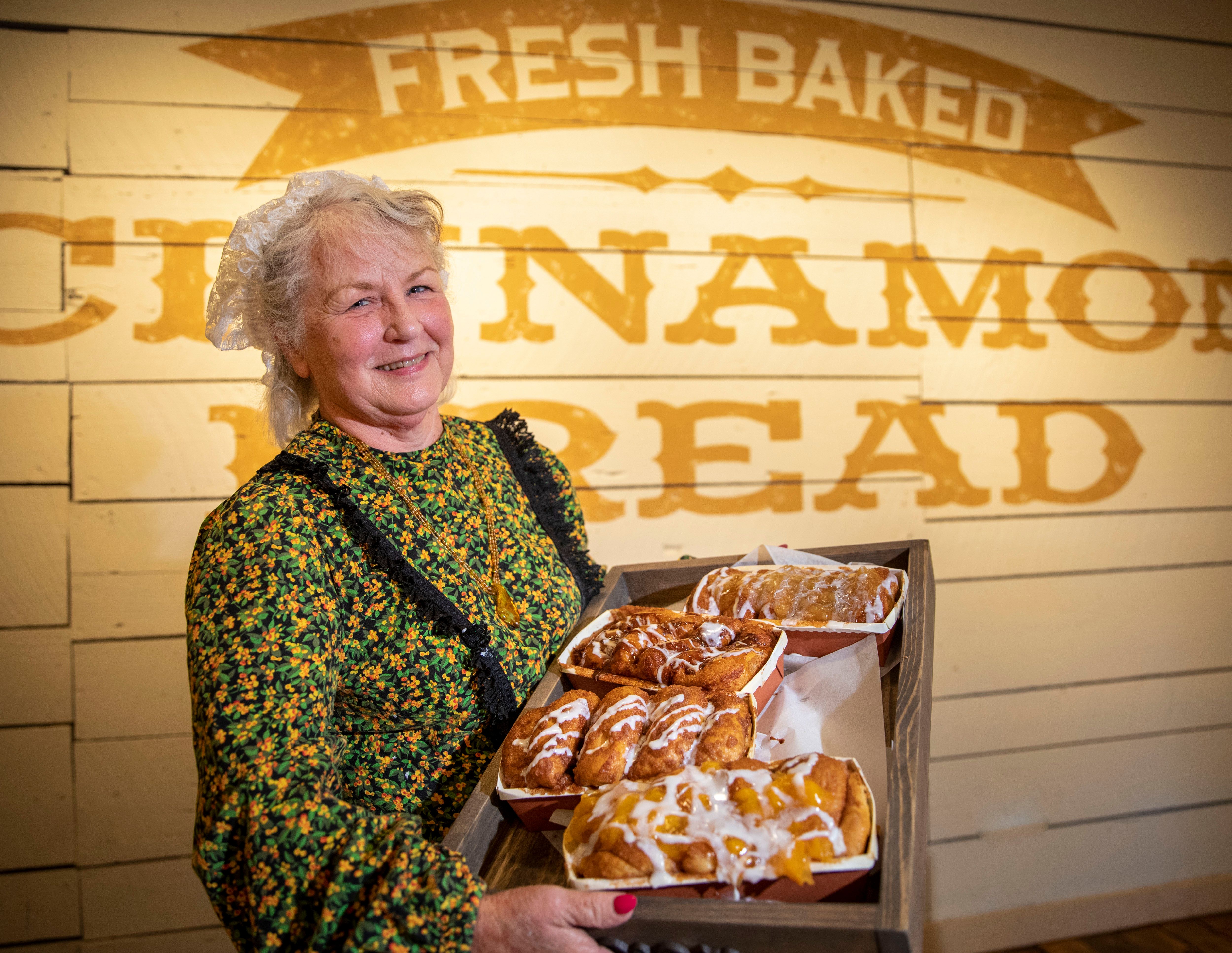 The family was unanimous on how awesome their famous cinnamon bread is (available in original or a variety of flavors), we even saved some for breakfast the next day.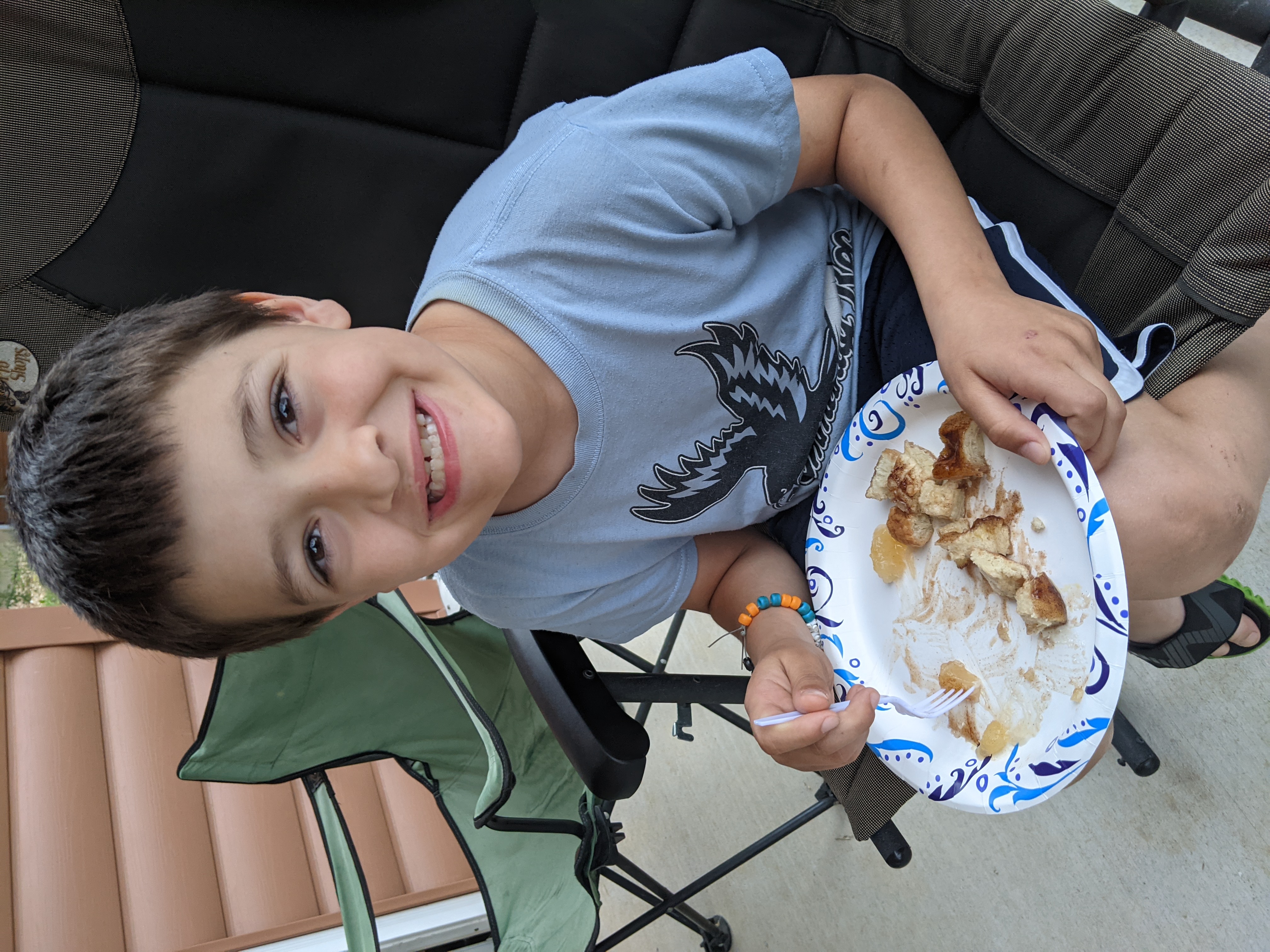 Silver Dollar City is internationally awarded for excellence in creativity, presentation, and operations. It is also the reigning #1 Amusement Park in America and 4-time America's Best Theme Park Holiday Event as designated in a national poll by USA Today's 10 Best. Other highlights are the new Rivertown Smokehouse and world-famous Clara Belle's Cinnamon Bread, featuring Silver Dollar City's famed baked specialties. If rollercoasters are your thing, several world footprint roller coasters are also located in the park including the Fastest, Steepest and Tallest Spinning Roller Coaster in the World, Time Traveler, plus Outlaw Run, honored as Guinness World Records 2015 Steepest Drop on a Wood Coaster.
| | |
| --- | --- |
| Time Traveler | Outlaw Run |
| | |
Another one of the fan favorite attractions is Marvel Cave. Marvel Cave is a wet limestone cave, complete with formations that are still alive and growing! To begin, you will travel 300 feet below the surface and enter the Cathedral Room. The breathtakingly beautiful Cathedral Room is the largest cave entrance room in the United States. The visitors' trail consists of stairs and ramps. The tour lasts approximately 60 minutes, with most of that time spent descending and climbing stairs.
Silver Dollar City Attractions in Branson, Missouri also include the authentic Showboat Branson Belle, a 13 acre waterpark, and the Silver Dollar City Campground with cabins and RV sites. If you are going to also visit the waterpark (we didn't have time), I would definitely suggest dedicating a full day to each of them.
Our day at Silver Dollar City was an absolute success and we have friends that have visited since, with nothing but great things to say about it.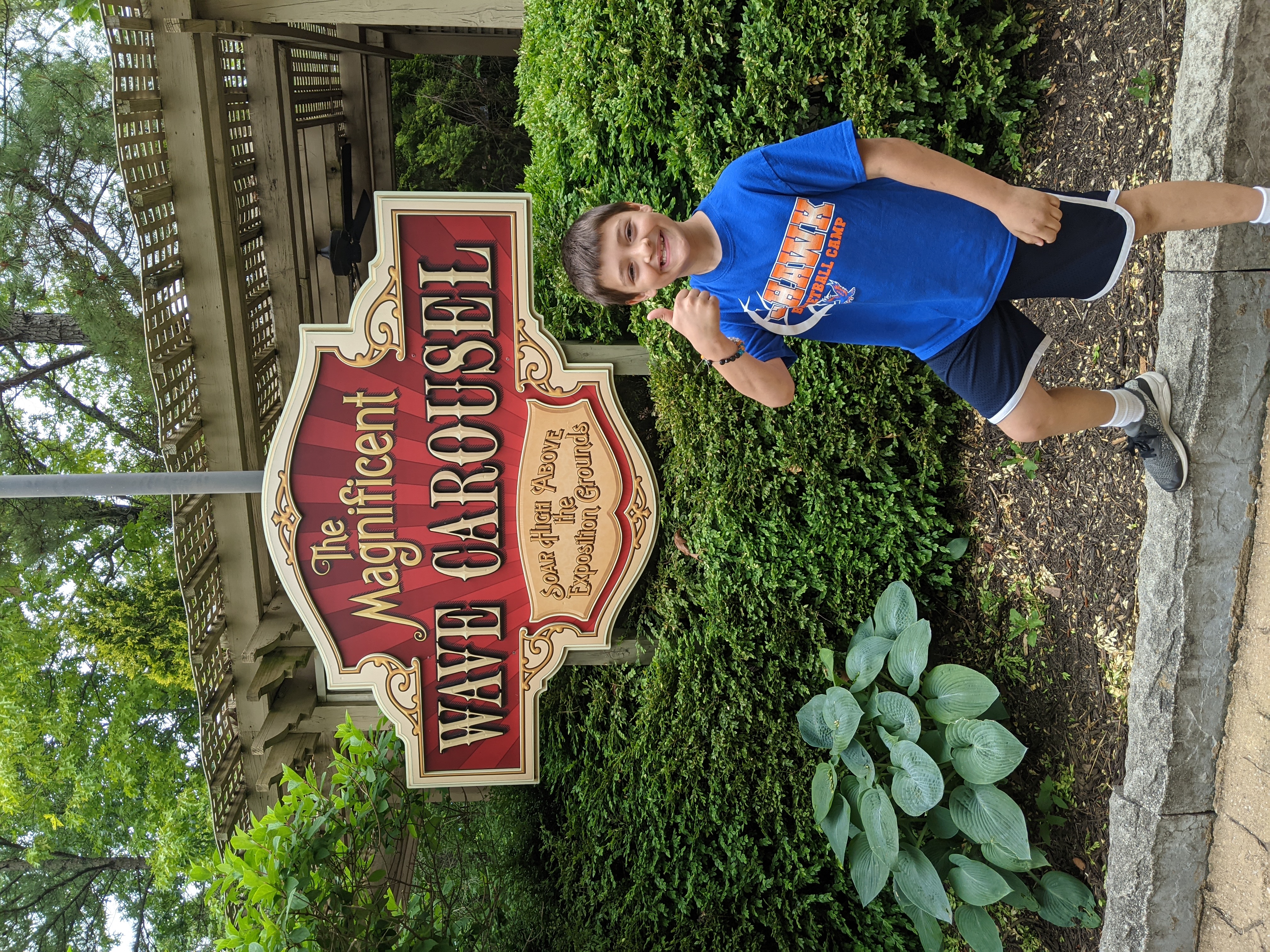 *Money saving tip: Sign up for their promotional emails to get notified when they offer discounted tickets or package deals.
One of the newest attractions in Branson is the Aquarium at the Boardwalk, which opened it's doors for the first time in November 2020. There were tons of visitors on the rainy day we went, but the layout and flow made it an easy visit without too much waiting or congestion. Plus, the exhibits and 5D movie experience were awesome. Did you see the giant Octopus-shaped entrance?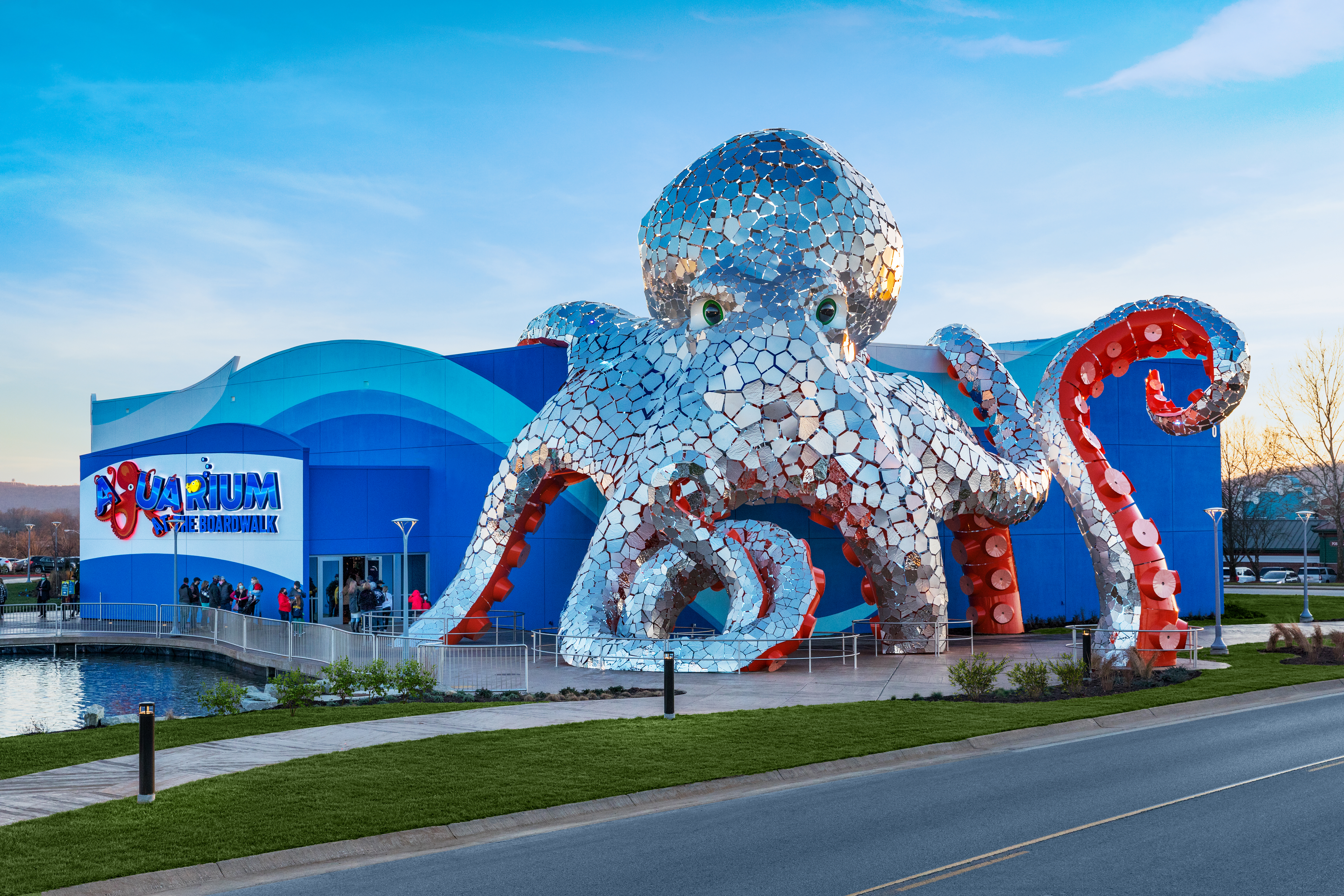 Some features that visitors can expect to enjoy:
• Ten exciting zones full of Fish and Fun
• More than 250 different animal species in 400,000 gallons of salt water
• Sharks, seahorses, stingrays, lionfish, octopuses, eels and much more!
• An original 5D submarine adventure to the bottom of the sea
• More than 7,200 individual sea animals
• Photo ops including seahorse carousel, mermaid tail and trident, AND a high-tech diving suit
• Two mirrored art installations giving the sense of infinite ocean life
• A 24-foot Kelp Forest climbing structure for kids
• A gorgeous 16-foot view of a coral reef

Guests will also meet the Aquarium's characters Aquarius, the wise and helpful Giant Pacific Octopus and Finn, the adventurous Golden Puffer. Not only will these animals be the first they see on the Boardwalk, Aquarius the Octopus is represented in numerous ways throughout the experience, beginning with the 55-foot tall stainless steel sculpture wrapped around the front of the building. Since octopuses are masters of camouflage, Aquarius sculptures can also be found hiding in nine fun ways throughout the experience.


"Touch Pools are one of the most popular features in all aquariums. We're pleased to have two of them, one with rays and sharks and the other with surging water and tide pool animals such as
anemones and star fish," said Tej Sundher, Partner at Kuvera Partners, developer of the attraction. "It's been our pleasure to see the pure excitement when guests reach into those pools and connect with the animals.
We loved that there was a touch tank for the sting rays PLUS a touch tank with starfish and sea anemones in it. We were able to touch a couple of starfish, Gavin said they were "rocky", and the sea anemones were super squishy, but VERY cool.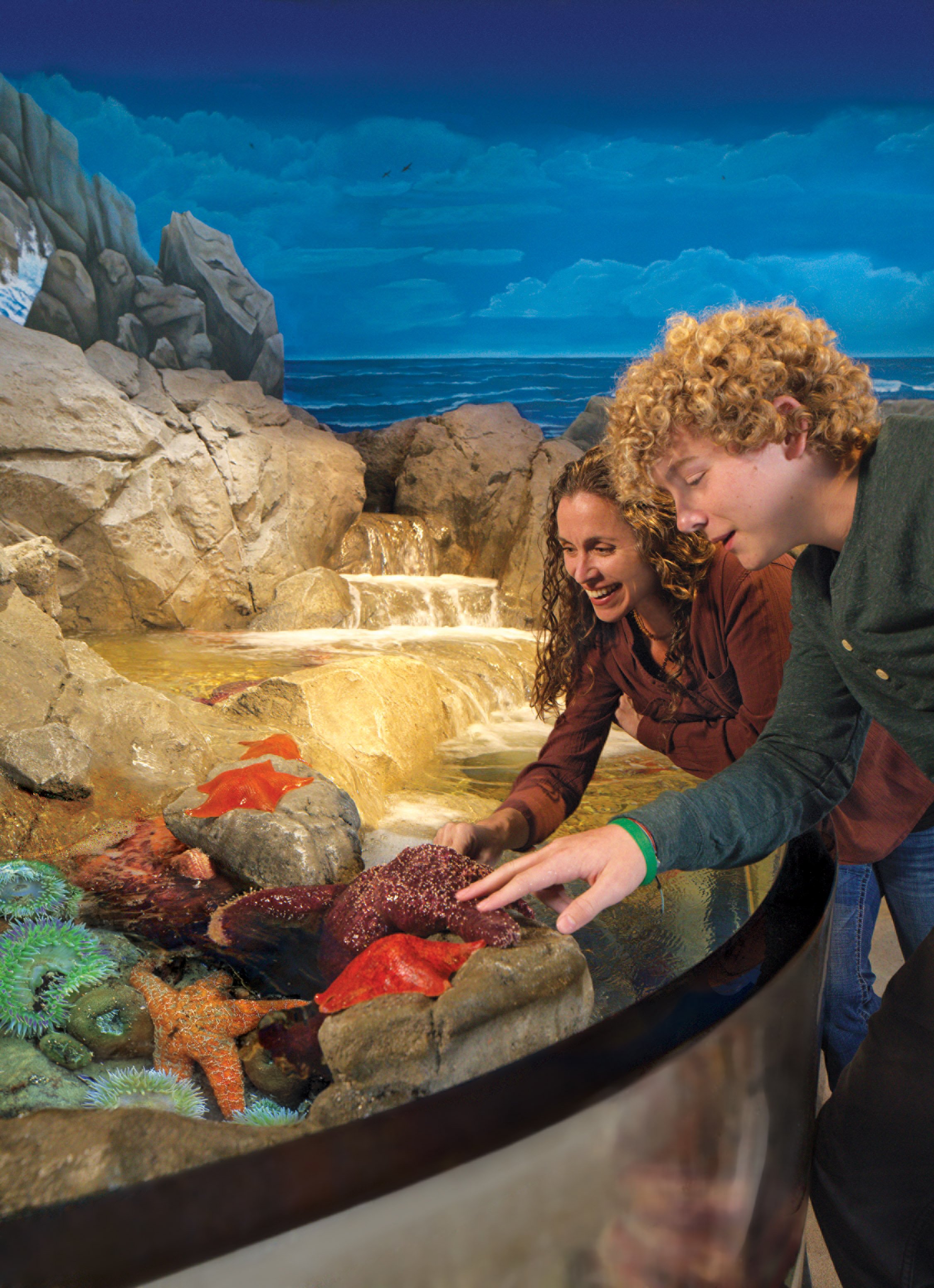 Aquarium at the Boardwalk is committed to preserving ocean life, and has partnered with the Coral Restoration Foundation™ (www.coralrestoration.org), the largest non-profit marine-conservation organization dedicated to restoring coral reefs to a healthy state. Over the next 20 years, CRFTM, NOAA, and other partners will be working to restore seven iconic reef sites along Florida's Coral Reef-restoring a total area equivalent to 52 football fields.
Tickets for Aquarium at the Boardwalk are now on sale at the box office and online at www.AquariumAtTheBoardwalk.com. All tickets are for timed entry. Guests are encouraged to purchase online to get the day and time that works best for them.
The Showboat Branson Belle, America's Most Entertaining Lake Adventure, cruises through the year, featuring specialty cruises and events, plus fireworks on select days. All cruises offer a unique experience aboard the 700- passenger, historically-inspired paddle-wheeler, with multi-level decks for viewing scenic Table Rock Lake in Branson, Missouri.
Check out this view of the Branson Belle when we were cruising the lake the day before: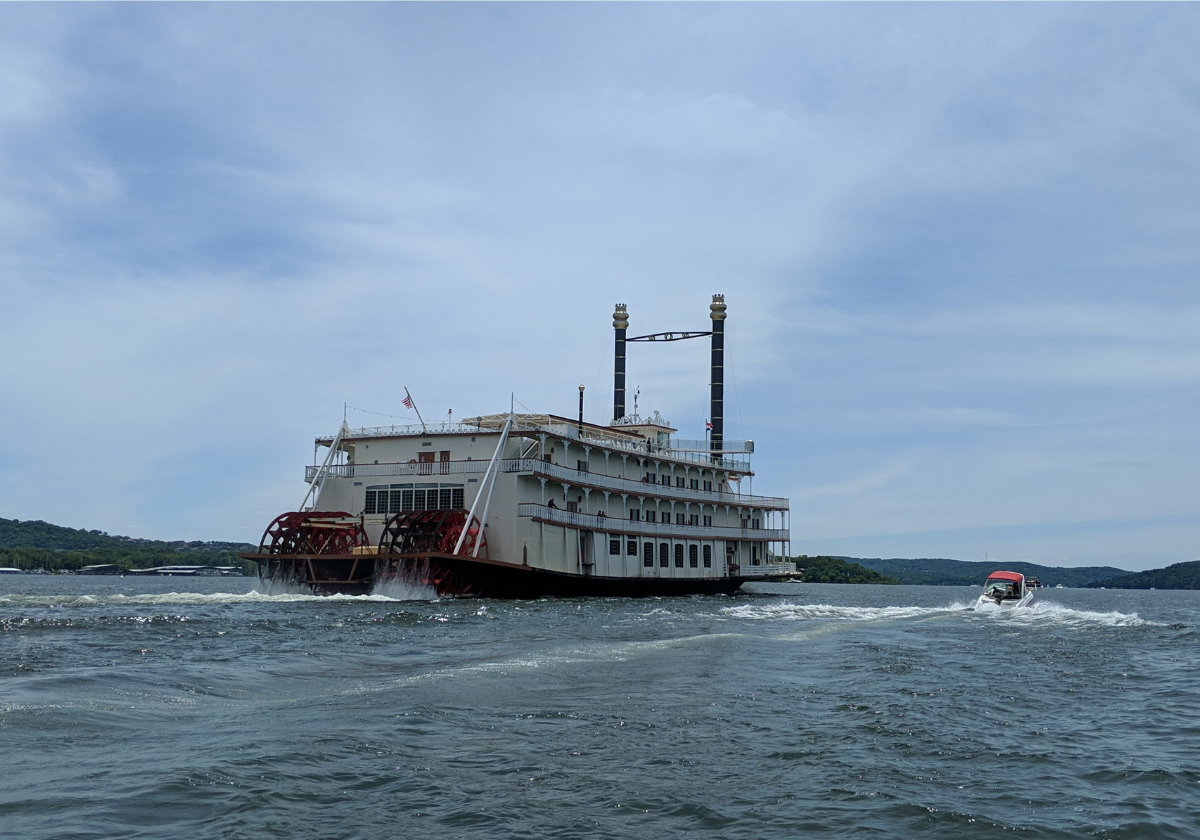 All aboard the Showboat Branson Belle, a four-deck re-imagining of an authentic 1890s paddle wheeler of yesteryear, celebrating a quarter-century on Table Rock Lake. The Showboat Branson Belle offers Noon, 4:00pm and 8:00pm cruises, May 14 through December 31, 2021, but is generally closed on Sundays and Mondays (except Holiday weekends). Due to high demand for socially distanced, outdoor activities, the Showboat started their season two weeks earlier than anticipated this year and strongly encourages guests to pre-purchase tickets to get their desired date and time preferences. Docked at beautiful White River Landing in Branson, Missouri, the 700-seat Showboat Branson Belle spans nearly the entire length of a football field.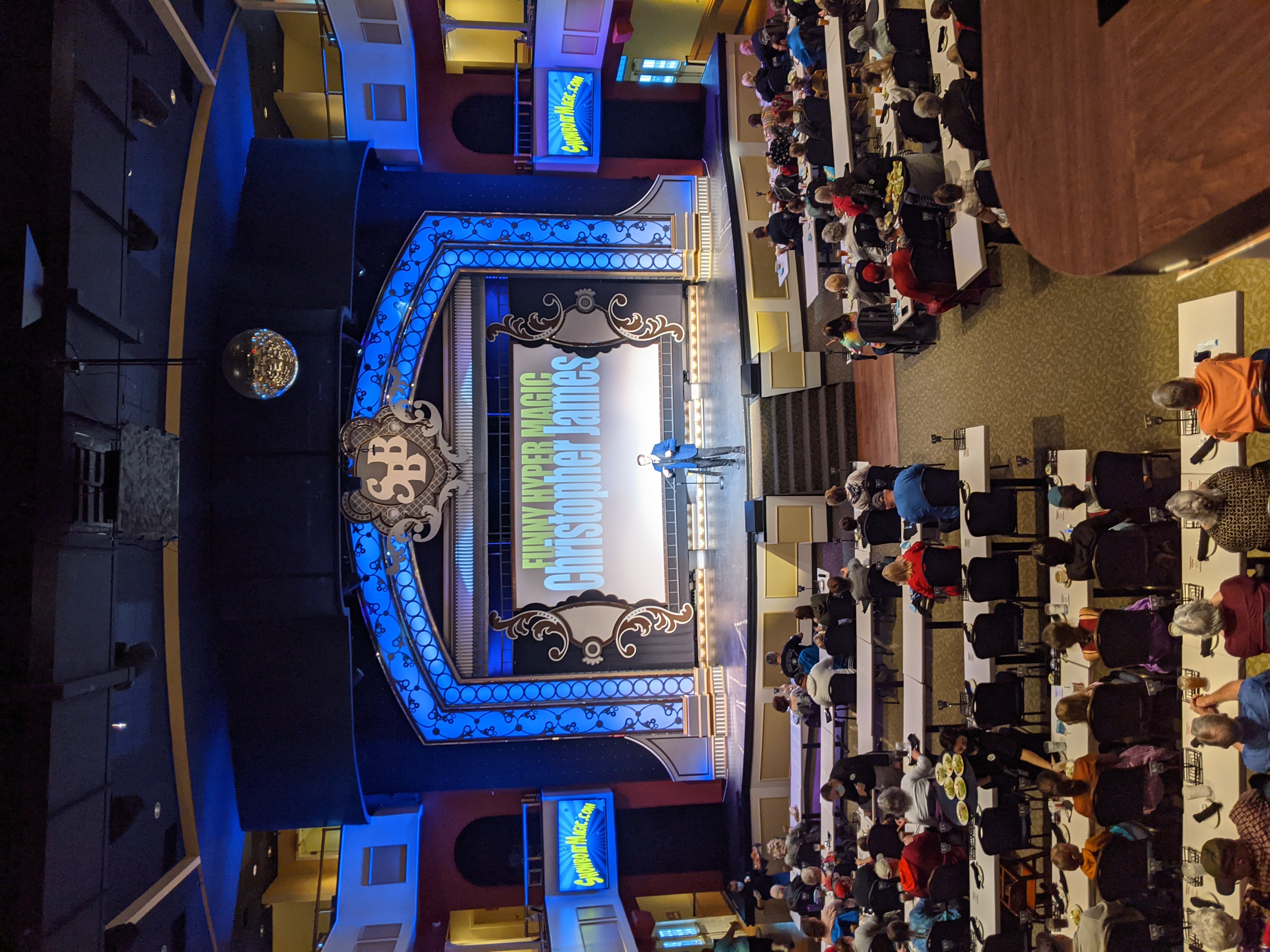 Once aboard, passengers explore the wrap-around scenic decks where live acoustic entertainment is often found during the bon voyage. Once sailing, award-winning magician Christopher James presents an energized and refreshing comedy revue prior to emceeing a high-energy musical show of classic rock, country, and pop hits from across the eras, along with numbers from acclaimed musicals and movies and ending with a gospel-inspired finale. In addition, part of the cast is a dance troupe presenting step, tap and acrobatic dancing to the live music of a four-piece band.
| | |
| --- | --- |
| | |
Each cruise offers a three-course meal of an entrée of rotisserie herb chicken, slow-cooked pot roast, fresh green beans and garlic mashed potatoes, complete with a homemade gooey butter cake dessert. Premium balcony seating on the Showboat includes a chef-crafted menu with a choice of pan-sautéed chicken, Angus ribeye, pan-seared trout or grilled prime pork chop. Premium choice of dessert is caramel pecan cheesecake, chocolate lovers' cake, lemon mousse cake or homemade gooey butter cake.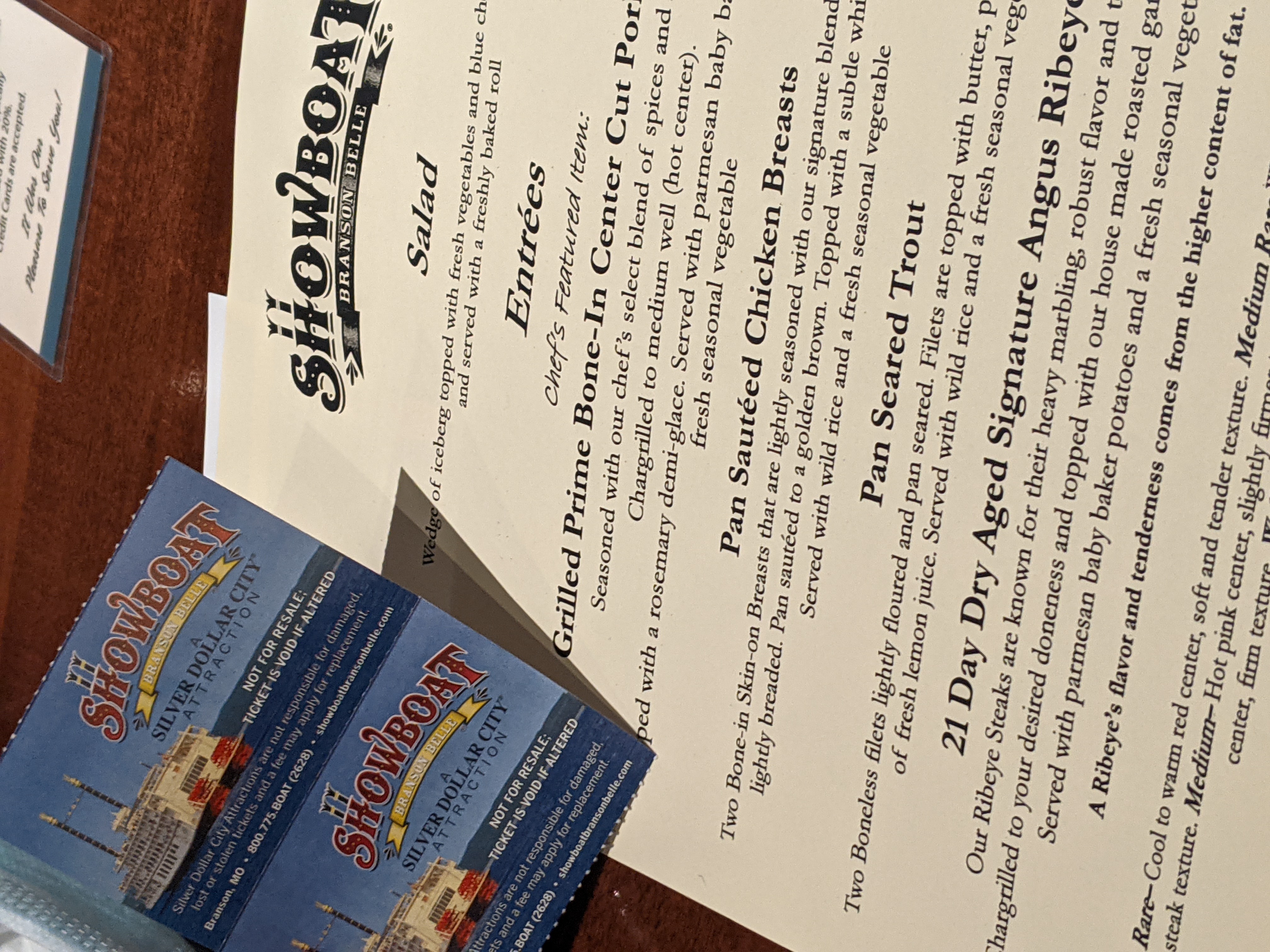 To be honest, I had expected the show to be older music and an older crowd, but I have also never been on a showboat before. The whole experience was amazing and I was absolutely impressed with the mix of classic rock with more modern songs and the high energy of the entire cast. The balcony view from Captain's Row (premium seating) was FANTASTIC, but there wasn't a bad seat in the house. There was still plenty of distance between guests and the service was impeccable. This was our teens favorite attraction on our trip to Branson and I didn't even know if he would like it.
**HIGHLY RECOMMEND**
For the schedule and ticketing check out the website: https://www.silverdollarcity.com/showboat-branson or 800-831-4FUN(386).
We had great intentions to make it over to Wonderworks, but didn't have time on this visit. The one in Orlando was awesome, I'm sure that Branson's would have been as well, but with cool, Midwest specific exhibits worked in. Think of it as an imaginarium ... times a hundred.
WonderWorks is an amusement park for the mind with 48,000 square feet of "edu-tainment". The attraction combines education and entertainment with more than 100 hands on exhibits that challenge the mind and spark the imagination. WonderWorks one of the top things to do in Branson Missouri! This family friendly attraction is a wonder for the whole family! There is something for everyone! What is the state of matter? Can you get your kicks on route 66? What is Branson's most famous fish? What does it feel like to go ZERO GRAVITY?
WonderWorks Branson also offers special exhibits on American Innovation, Route 66, Branson/Ozark Area History & Geography, our Nation's military and special exhibits in partnership with Webster's Dictionary and the U.S. Army. There truly is something for everyone!
WonderWorks Art Gallery also features OZART, a collection of young artists from Missouri & Arkansas.
It's on my list for next time.
*Additional Money Saving Tips*
- Bring Groceries: Any time you are away from home, the cost of buying food can really put a dent in your budget. With this one being quite the drive, we packed a big cooler in the back with groceries for the next few days (meat to grill, tons of drinks/water bottles, salad supplies, fruit, etc.) and put a smaller cooler in the backseat with drinks and car snacks for the road trip. We like to take fruit/cereal/granola bars for breakfast, tons of drinks/waters, sandwich supplies (lunchmeat, cheese, buns), apples/oranges/bananas, and a grocery sack full of chips/crackers/snacks. We do this for almost every trip and it saves SOOOO much money...
- Accommodations: There are TONS of non-hotel options in the Branson area, including AirBnB's, condos, and cabins. If you are a family of 4 or more, I strongly suggest a condo/apartment or cabin with a full kitchen and separate bedrooms, especially if you'll be there for more than a night or two. AND these are often a better price than nightly hotel rates.
- Take advantage of NON-PEAK rates: Many attractions have rates that vary based on demand or season. Even weekday rates can be significantly lower than weekend rates, with holidays generally being exceptionally high-priced. If you have the flexibility, do some research on what days or months are less expensive.
- Look for online deals: Check out our CertifiKid deals, Groupon offers, Restaurants.com, and other discount sites to see what's available at your destination. Several of our local cities have deals listed on some of these sites, but naturally, the bigger cities are likely to have even more options.
*I did receive complimentary or discounted rates in order to share our family fun adventures with you, but all opinions are my own and I promise I wouldn't tell you how fantastic something is if it really isn't*